Our Exclusive 28-Day Guaranteed Sale!!
…Your Home Sold at Full Market Value in 28 Days
…or we'll pay you up to $20,000*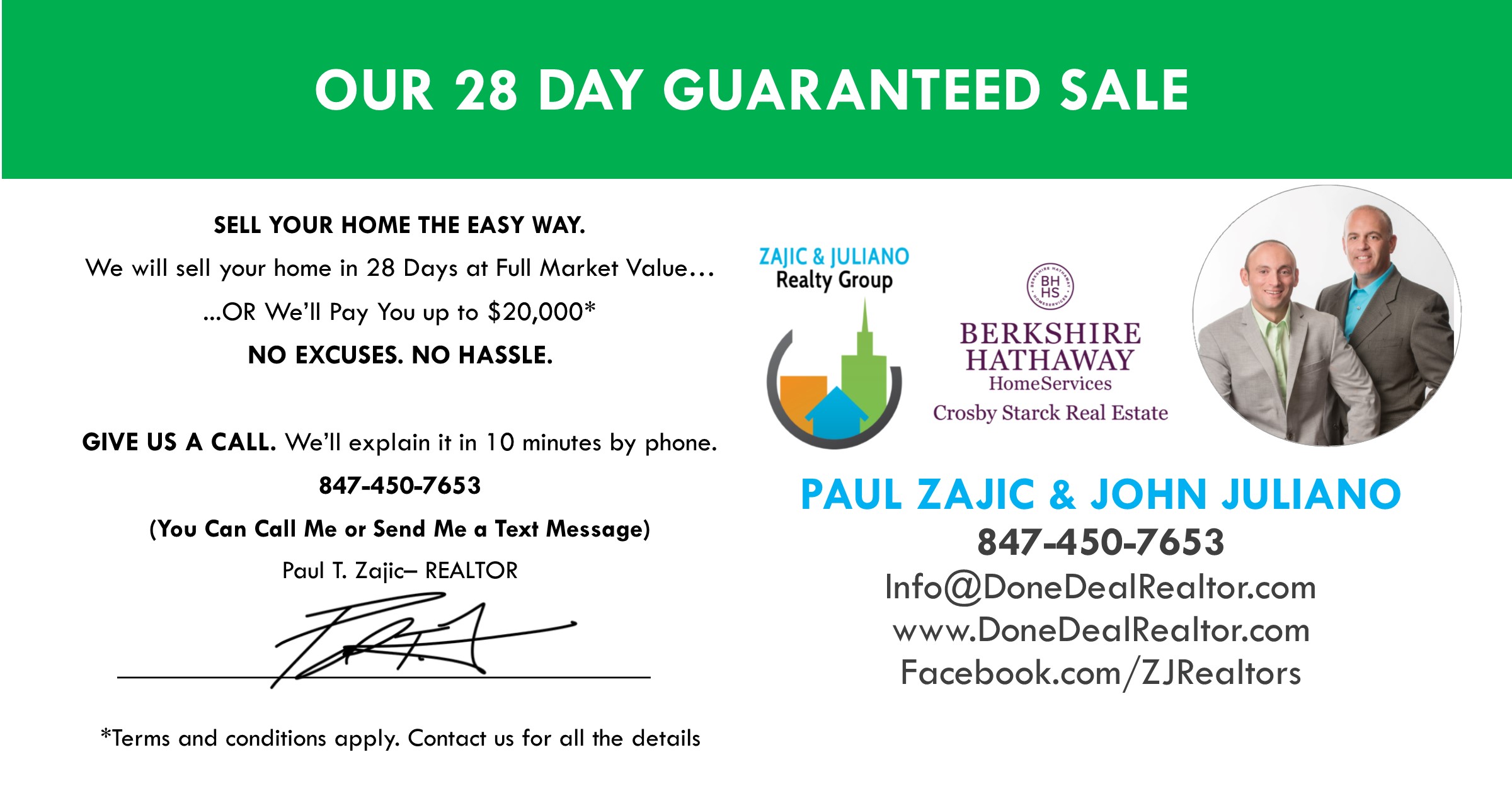 THIS IS NO GIMMICK OR SALES TRICK!
HERE IS OUR COMMITMENT TO YOU: We will get your home SOLD for the highest possible price, in
the best amount of time, with the least amount of hassle possible.
OUR 28-DAY GUARANTEE:
We guarantee that within the first 28 days of the property being put on the market, we will receive an offer to
purchase at current Full Market Value for the property or we'll pay you up to $20,000*. The Full Market Value represents the highest and best offer that the current market will bear.
HERE'S HOW IT WORKS:
We make sure we price your home accurately and strategically to generate maximum Buyer interest.

We make sure your home is in "showcase" condition when buyers come through so they are sold on your home.

With our

EXCLUSIVE 10-DAY SELLING BLITZ

, we use the most innovative and effective marketing strategies to get your home exposed fast and to get Qualified Buyers writing top-dollar offers on your property in the first 10 days it's on the market.

We negotiate the best offer to get you the best price and terms and coordinate a successful escrow period and timely closing.

You go to closing and move on with your plans!
GUARANTEED SALE FAQ'S
Q – How can you make such a bold guarantee of selling my home in 28
days?
A – By carefully studying the market supply and demand and pricing statistics, we have been able to apply a formula that gets home sold in an average of 9.7 Days on the Market at full market value.
Q – What if I don't NEED to sell my home fast?
A – Our primary goal in selling your home is getting you the highest possible price for your home. Our goal is NOT speed. The reason our strategy is to sell your home fast is because homes that sell in the first 30 days on the market tend to sell for significantly more than homes that sit on the market for months and months. The reason our 28-Day Selling System is superior is because it will get you more money in your pocket and help you avoid all the headaches that come with extended market time. The good news is that if you don't need to sell your home for 6 months, you can enjoy more time living in your home without the stress of having it on the market. That is also why we do not do long listing contracts.
Q – What's the catch?
A – The "catch" is that you must be realistic about what your home will actually sell for in today's market, and you must be ready to start packing soon.This is not for the unmotivated seller wanting to test the market. This process is a team effort between You and our Team to get you the results you want. A strategic combination of aggressive marketing and professional staging is fully implemented in order for the process to have maximum effectiveness. The good news is that we provide everything that is needed to accomplish this, to make it simpler for you.
Q – How do I know if my property qualifies for the 28-Day Guaranteed Sale?
A –First of all, most properties will qualify…as long as you are truly committed to selling it. To find out if our guarantee is right for you, simply contact us to schedule a preliminary 10-minute consultation with Paul by phone. No pressure. No obligation. Then you can decide if our 28-Day Selling System can help you get the most for your home in the least amount of time.
Q – What if I don't want to do all the terms of the 28-Day Guaranteed Sale?
A – No problem. We can modify our Selling Strategy to meet your specific needs and goals. You will still benefit from our powerful 28-Day Selling System which has been proven to get the highest price and the best terms for our clients over and over again.
Q – Why do you typically only take a maximum 90-Day listing when most agents want 6 months or more?
A – Simple answer…because that is all the time that is required to sell and close on most homes if it is marketed correctly. We tell you the truth up front about what it will take to sell your home and then we sell it.
Q – Why should I pay you a 5% commission when some other agents will do it for less?
A – This is one of our most common questions and a justifiable concern. What our clients discover is that when they hire us, the speed and sheer effectiveness of our marketing strategy ends up getting them top-dollar offers without the months and months of slow, traditional marketing strategies and extended time on the market having to keep the house constantly clean and be inconvenienced. It is a statistically proven fact that homes that are priced to sell quickly, stimulate more interest from Buyers and thus generate higher and better offers faster. Because of that, our Sellers find themselves netting as much or more money in their pocket plus the bonus of a much shorter and smoother process.
Q – Why do other agents often take so long to sell a listing, or worse, fail to get it sold at all?
A –Many sellers have suffered through months and months of their house sitting on the market and their agent being totally baffled by why it's not selling. The reality is that the only reason a home does not sell quickly in today's market is because of an ineffective marketing plan and pricing strategy. That is why we don't just promise timely results, we guarantee results.
DON'T BE ONE OF THOSE UNLUCKY SELLERS WHO GETS STUCK WITH THE WRONG AGENT.
We know you have options. Just make sure we are one of the agents you interview.
GIVE US A CALL
We'll explain it in 10 minutes by phone
847-450-7653
(Yes you can call us or send us a text message)
The Fine Print:
The property must be available for showings daily between 9:00AM and 6:00PM (8:00 PM in the Summer) and must be in showing condition with 1-hour notice. The Seller(s) may not be present during showings.

The property must be in "showcase" condition and be professionally staged (and we pay for the staging consultation!)

The property must be available for a Broker Open House the first week on the market (if applicable), and for Open House Events on Saturdays and Sundays from 1:00 to 4:00 PM as scheduled (Typically the first two weekends on the market).

The list price must be strategically set at "Event Pricing" to generate maximize Buyer interest, mutually established by Seller and Listing Agent.

The selling broker will be offered a 2.5% commission which incentivizes agents to bring more buyers and better offers.

If after the first 28 days an offer has not been accepted and an accepted offer is received that is higher than any offer received during the initial 28 days on the market, the Listing Agent will reduce the commission by 1.0% of the sales price (up to $20,000 whichever is less) if that offer closes, but in no case will the total commission be less than 4.0%.**

If after the 28-Day Guaranteed Sale period, the Seller accepts an offer that is equal to or less than the best offer received during the 28-Days, the 5.0% commission will be earned and payable to the Broker at close of escrow since the best offer was received during the first 28 days.

In certain cases if the home is very exclusive or has very unique characteristics that make it suitable for only a very narrow pool of Buyers, the Guaranteed Sale period and listing terms may be modified by mutual agreement at the time of listing.**
*Paid as a reduction in commission of up to $20,000 or 1.0% of sales price, whichever is less, at close of escrow.
**If the property for any reason does not sell, no commission or fees are due. Not applicable on Short Sales.